Deep In Your Best Reflection
poems in 160 characters
Danny Simmons
About the Book
This is a small sexy little black book full of poems that will get your blood pumping. Immediate poetry for the 21st century...poems texted to a lover in the wee hours of the morning..a 160 character love note to let them know how much you are missing them at that moment...carefully constructed with words designed to convey in a tiny space how special your lover is to you..
About the Author
Danny Simmons is a visual artist and writer. Author of I Dreamed My People Were Calling But I Couldn't Find My Way Home, a volume of poetry and paintings, and Three Days As The Crow Flies, a novel about the NYC arts scene in the turbulent 1980's. He is also the co-creator and and executive producer of the HBO series Def Poetry Jam. He is the founder of Rush Philanthropic Arts Foundation and President of Rush Arts Gallery. He sits on the board of trustees of several NYC cultural institutions.
Linen hard cover with foil embossed title, 48 pages, 6 1/4" x 4 3/4".
$20.00 plus $5.00 padded envelope sent USPS Media mail (U.S. only).
All other Countries, and multiple copies please email us at info@dannysimmonspoetry.com for rates.
All transactions are via Paypal for your added protection.
Other Titles by Danny Simmons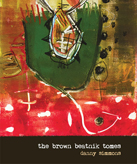 Click here for more info
"Danny's poetic eroticism has struck the right balance between sexuality and sensuality. In 160 characters he has parsimoniously interwoven the oldest passion of what it's to allow ones lack of inhibition to romp in the wilderness of freedom."
- Bruce George, Co-Founder of Def Poetry Jam 
"Ntozake said poems are urgent things. I need a love poem right now she said. I need it. Now. Sex feels the most urgent of all things. Thank you Danny for this sexy book of urgent things. We needed it right about now. "
- Michaela Angela Davis
"Musical, stirring, and familiar, Deep In Your Best Reflection is full of sexy. Danny Simmons is a masterful poet and has raised the bar for all who create erotica."
- April R. Silver